IN PRAISE OF GREAT BEER-1
Westmalle Trappist Beer
For Jean-Francois and the late Michael Jackson
Finally I can write about the great Belgian beer brewing craft. Belgium is not just home to thousands of different kinds of beer. It is also the place of many, if not most, of the world's greatest beers.
I've been away for so long that I've neglected to update the beer blog. Thankfully I'm always on the lookout for exceptional beer moments and so despite the gap between posts, I've managed to collect images and stories, which I store in an ever-growing brew folder.
The hunt for the world's most interesting beers is never-ending, and by great we mean not just vital aspects of a beer, such as flavor, but also facets like the setting for the drink, the food that went with the brew, the company of friends that came with the beer, or even just the label or shape of the bottle.
This time though, I'd like to write about a single great brew -- a Belgian brew, one of the best that Belgium has ever produced. I wish to write it too
in honor of the late Michael Jackson, described by the fine (if not finest?) beer website, BeerAdvocate.com, as "the most influential beer writer on Earth".
Cheers to that, I say -- Jackson is indeed the best writer on beer that the world has ever produced.
Jackson passed away last August 30 and with his demise, a large store of lore and experience has come to a close. Fortunately, because he had always been a generous champion of beer, Jackson left behind a stupendous amount of books and insights. He wrote to share the joys of beer, and for this, I, along with countless fans and advocates of beer brewing and drinking, am indebted to him.
This short post is also dedicated to my good friend JF Fauconnier, who hails from
the beautiful Belgian city of Liege.
He's working with Amnesty International right now, and I haven't had a conversation with him for some time. I miss his company.
JF introduced me to that rare Trappist beer called Westvleteren, an enormously exhilarating brew which should have a separate post soon.
For this one, though, I'd like to introduce you to another trappiste beer called Westmalle, particularly its Dubbel brew, produced by a monastery established in 1821. There are only five beers that can be rightfully called trappiste beers and the Westmalle brew is one of them. I wish to borrow from one of Michael Jackson's works.
I've mostly had this beer with mature cheese and real Belgian fries (double-fried and way more pleasurable due to its inside and outside texture, unlike the French version) and I've had a few bottles on different occasions in Brussels. The Westmalle Trappist bottle is one of my favorites on account of the distinct ring around its neck, which gives the dark amber bottle an elegant quality. Westmalle Trappist Beers, like many of the world's great beers, has its own beautiful glass. I shall write about beer glasses another time but you can see one from one of the images in this post.
According to Jackson, the "classic example of the pale, Triple style of Belgian Trappist brew
is produced by the monastery of Westmalle, a village northeast of Antwerp." Westmalle "remains one of the most withdrawn of the Trappist monasteries" and "was slow in making its beer available commercially."
Visits to the brewery are not encouraged "though appointments can be made."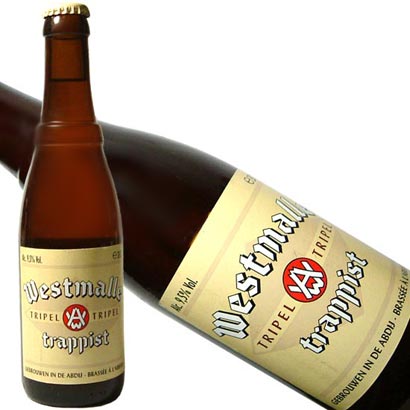 "The brewery produces three beers. The 'Single', confusingly known as
Extra
, is available only to the brothers", which frustrated Jackson because the "pale, top-fermenting brew is a product of some delicacy." The Double is "dark brown, malty, but quite dry." The Triple "offers an unusual combination of features, being a strong top-fermenting beer of pale, almost Pilsener, colour. Its mash is entirely of Pilsener malts from Germany and France but, in the classic procedure, candy sugar is added in the kettle. There are three hopping stages, using Styrian Goldings, a number of German varieties and Saaz.... With its faintly citric fruitiness (and hints of thyme and rosemary), its rounded body and its alcoholic 'kick', the Triple expresses very full character within six months of leaving the monastery, though bottles from 1927 are still in good condition."
A final note, in case you get to sample Westmalle Trappist beer -- the brewery "Is extremely jealous of the individuality of its product, but several secular breweries produce beers in a similar style, using the designation Triple. " Some of the better examples cited by Jackson include Vieille Villers Triple (haven't tried this) from Van Assche; Witkap from Slaghmuylder (tried this and the Kamuning Republic has a bottle in its collection! Will write about it in another post), and the "slightly deeper-coloured" Affligem (tried this too! another very good one surely deserving a separate post).
That's all for now friends. With his death, I think all the readers of Jackson -- and all those who have come to search for the elusive essence of beer -- can today call themselves by the title that he has come to be identified with, in remembrance of the original, the great Beer Hunter! #
The Westmalle Trappist beer bottle pic is from the Kamuning Republic's beer collection. This bottle's a Double. The collection also has two or three Triples on the shelf. The Triple version has a much paler label. The other images are links to actual beer websites. Click on them and find out more! The photo of Michael Jackson is from BeerAdvocate. Jackson's words are borrowed from his book Michael Jackson's Pocket Beer Book (Reed Internatioanl Books Limited, London: 1997)